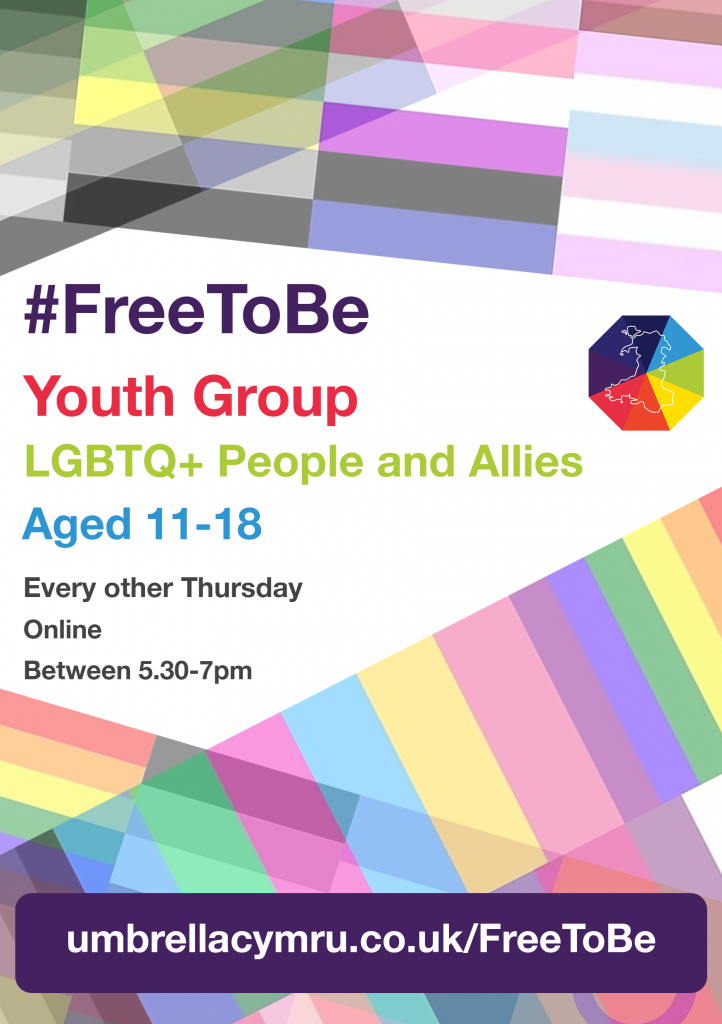 ---
#FreeToBe is a fun, social and peer support group.
This group is specifically aimed at LGBTQ+ young people and allies age 11-18 in Wales, and is one of a number of groups we are setting up.
Who can join?
– Are you aged between 11-18?
– Do you identify as LGBTQ or any of the spectrum of identities in our wonderful gender and sexually diverse community?
– Or, are you an ally to those who do?
Come and join us!
---
Because of COVID-19, we have decided to make the group virtual until we are able to meet face-to-face again.
Even though we prefer to meet people in person, we think that a virtual group will give us an opportunity to expand the number of people who attend. You know what they say, every cloud has a silver lining, or in our case, it has a multi-coloured glow!
---
Help us Advertise
Please click the button to download the poster to print and share.
---
Location:
ONLINE
We have a fantastic online platform that lets us meet, share content, watch videos and chat in large groups as well as break into smaller groups.
We are bringing you a Wales-wide online group and more local online and face-to-face groups. Let us know when you register which area of Wales you live in and we'll send you more information about how to join your local group.
Day & Time:
We meet online every other Thursday between 5.30-7pm.
---
Want to join?
Amazing, we can't wait to meet you!
We just ask that you register with us so we can send you the link before each group. Just fill out our really quick form by clicking the button below and we'll send you all the details you'll need.
We're also offering a safe space to chat with members between the group meetings. We'll send you instructions about how to join in after you register.
---
FAQs
These are currently being developed. Check back soon to find the answers to the following questions.