Everyday's a school day…
…there's so much to learn!
Nick, the Director of Umbrella Cymru, provides most of the training we offer…well, because he knows his stuff!
Nick has a masters degree in equality and diversity and specialises in gender and sexual diversity, equality and inclusion.
He is the founder of Umbrella Cymru, which he set up in 2015, and has worked tirelessly to develop the services to provide quality support to people across Wales.
He has been working in the field of equality and inclusion for many years since his days in the Welsh Government and has been running his own learning and development business since 2009.
Nick is a CIPD qualified trainer, consultant and coach and has delivered a range of learning interventions to small, medium and large organisations in the public, private and third sector for over decade.
The training provided by Nick is through his training company IN-EQUALITY.  He donates so much time and money from training back to Umbrella Cymru to further develop and enhance the services we offer.
Nick is extremely passionate and his enthusiasm is infectious.  He loves meeting new people and helping them learn and develop.
---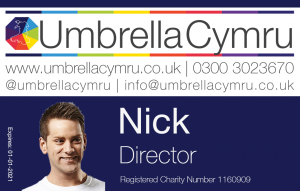 ---
Want to develop your whole team?
Nick is keen that any learning and development is tailored to the outcomes you (or the team) want to achieve.
Before booking the session, he will want to speak to you to make sure he can build the right course to suit you.
Preparing for the meeting
We know that time is precious, so to make sure you get the most out of your appointment with Nick, he'll ask you to explain:
- Why you feel the training is necessary.
- What you would like to learn more about.
- Who would be attending the training.
- When you would like the training to take place.
- Where you would like the training to take place (face-to-face or online).
You might also want to prepare any additional questions.  Nick is always happy to answer anything he can.
---
What if I'm not sure what I'm looking for?
Don't worry, you don't have to know everything.  Nick will talk to you about what you do know and explore some options with you to see what might suit you best.
---
What happens then?
He'll discuss everything with you and make suggestions about the best way forward.  He will then be able to send you a quote based on your specific requirements.
If you're happy with the quote and want to proceed, you'll get confirmation and further booking instructions to make the process as easy as possible.
---
Book Nick 
To book an appointment with Nick to discuss your specific requirements, please click the link below.
---
Book yourself on a course
Nick delivers a range of training sessions throughout the year.
You can book spaces on any available session if you prefer. It's very easy to do through Nick's online booking system where you can pay by card or by invoice at a later date (or get your manager to pay of course).
Check the list below for sessions and events.
**IMPORTANT: Spaces are booked fast. If you're interested in booking any of the sessions that are SOLD OUT, please "Join the Waiting List" to be notified first of any new spaces as soon as they become available.